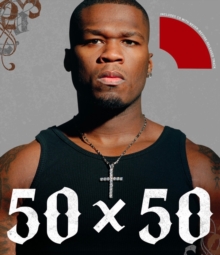 50 x 50 : 50 Cent in his own words
1847370888 / 9781847370884
28 cm 64 p. : ill. (some col.)
50 x 50: 50 Cent in His Own Words provides a candid autobiographical account of 50 Cent's remarkable life to date.
Co-author Noah Callahan-Bever has had exclusive access to the rapper for extensive interviews and co-writing sessions.
The resulting narrative is provocative and raw, with the candidness and flow that 50 Cent's fans have come to recognize and appreciate.
More than ninety colour and black and white photographs and ephemera complement the text.
This unique book contains high-quality reproductions of original memorabilia from 50 Cent's personal collection, including handwritten song lyrics, rare family photos and papers documenting his meteoric climb to success. 50 X 50 also includes a CD with one commercially unavailable music track.
The CD and mementos round out a package that both casual and hardcore fans will eagerly devour.
BIC: