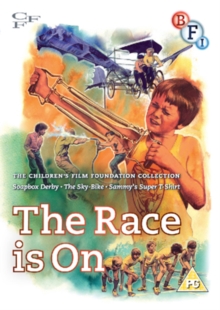 CFF Collection: Volume 2 - The Race Is On
(U) Universal, suitable for all.
Triple bill of British movies produced by the Children's Film Foundation.
In 'Sammy's Super T-Shirt' (1978), despite his small build, Sammy Smith (Reggie Winch) dreams of being a top athlete.
While in training for a running competition, a couple of bullies hurl Sammy's lucky t-shirt through a science lab window where an accident results in it gaining super strength.
Sammy retrieves the t-shirt and tries to use it to win the race but things don't go according to plan.
In 'Soapbox Derby' (1957), set in London, a teenaged Michael Crawford makes his movie debut.
The Battersea Bats and the Victoria Victors, two rival gangs of children, are getting ready for an upcoming soapbox derby.
When the Victors learn of a new car design created by the Bats they try to get their hands on it before the big race.
In 'The Sky Bike' (1967) a bumbling inventor hopes to win a contest with his new creation - a flying bicycle.
With the help of his young friend can he win the prize?