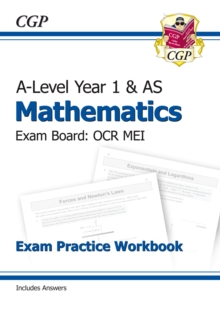 A-Level Maths for OCR MEI: Year 1 & AS Exam Practice Workbook
1782947396 / 9781782947394
210 x 295 mm, 240 grams 96 pages
This CGP Exam Practice Workbook has all the exam practice students will need to prepare for the latest OCR MEI AS-Level Maths exams.
It's full to the brim with exam-style questions on every topic, plus useful exam tips, fully-worked answers and a mark scheme for every question.
There's even a set of realistic practice exam papers at the end of the book.
Don't miss CGP's matching OCR MEI AS-Level/Year 1 Complete Revision & Practice book for full notes and examples on every topic (9781782948070).
BIC: