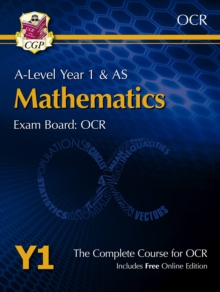 A-Level Maths for OCR: Year 1 & AS Student Book with Online Edition (Online ed)
1782947213 / 9781782947219
192 x 255 mm, 1086 grams 484 pages
This in-depth CGP Student Book for AS-Level Maths (and Year 1 of the full A-Level) is a superb guide to the OCR courses starting in 2017 and beyond.
It's packed with clear study notes, step-by-step examples and helpful tips, plus plenty of essential practice questions (with fully worked answers included).
Every Pure Maths, Statistics and Mechanics topic is covered, including all the new modelling and problem-solving requirements.
To top it all off, there's also a free Online Edition (accessed using the unique code printed inside the front cover) that lets you read the entire book on a PC, Mac or tablet.
For complete A-Level coverage, a Year 2 OCR Student Book for A-Level Maths (9781782947226) is also available from CGP.
BIC: