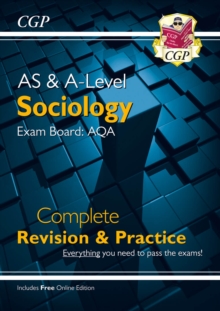 A-Level Sociology: AQA Year 1 & 2 Complete Revision & Practice
1782943560 / 9781782943563
210 x 295 mm, 544 grams 232 pages
This outstanding CGP Complete Revision & Practice book covers every topic and optional topic from both years of AQA A-Level Sociology!
It contains straightforward study notes explaining all the theory, plus summaries of every sociological study students will need to score a top grade.
Exam-style questions (with answers) and worked answers are included for every topic - and there's handy advice on how to do well in the final exams.
What's more, we've thrown in a free Online Edition that lets you read the entire book on a PC, Mac or tablet.
For coverage of the AS-Level course only don't miss our Year 1 & AS Complete Revision & Practice book (9781782943549).
BIC: