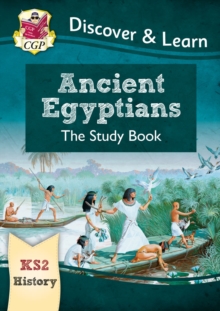 Ancient Egyptians: The study book
1782949682 / 9781782949688
30 cm 38 pages : illustrations (black and white, and colour), maps (colour)
Cover title "KS2 history." Maps and text on inside covers. Cover title.
Perfect for catching up and building key skills at home. From CGP - the Primary experts!Brimming with more colourful photos and illustrations than you can shake a mummy at, this CGP Discover & Learn History book for KS2 is the perfect way for pupils to learn about the Ancient Egyptians.
It's crammed with information on the lives and achievements of the Ancient Egyptians, all explained in a child-friendly style.
It also contains a smattering of engaging questions to get pupils thinking. There's also a matching Activity Book (9781782949718) containing a range of thought-provoking questions about the Egyptians - ideal for making sure all that new knowledge really sticks.
BIC: