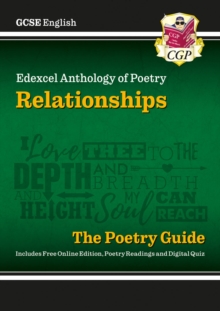 New GCSE English Edexcel Poetry Guide - Relationships Anthology inc. Online Edition, Audio & Quizzes
1789080010 / 9781789080018
210 x 295 mm, 220 grams 84 pages
There's no better way to prepare for the Poetry section of the Grade 9-1 GCSE Edexcel English Literature exams than with this Poetry Guide for the Relationships Anthology.
It includes the full text of every poem, with clear, concise notes on meaning, form, structure, language and context - plus questions to help students develop their personal responses.
It also has dedicated Grade 8-9 content for students targeting those top marks!Since it's crucial to be able to compare the poems, there are in-depth sections dividing the poems by the themes and poetic techniques found in the cluster.
We've also thrown in practice questions and exam-style questions at the end of each section, and the book is rounded off with plenty of detailed exam advice - including top tips based on real Examiner's Reports.
Perfect for getting to grips with exactly how to snatch all those marks. As if that wasn't enough, there are also some exciting online extras - audio recordings of all the poems, and a digital quiz to put it all into practice.
To make sure students can revise anywhere, the book also comes with a handy free Online Edition. Don't miss our fantastic Poetry Guide for the Unseen Poetry section of the GCSE Edexcel English Literature exams (9781782943648).
BIC:
YQE Educational: English literature, YQZ Educational: study & revision guides