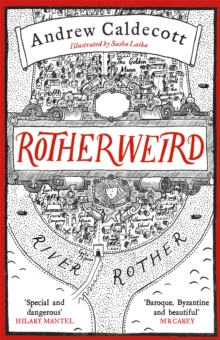 Rotherweird
1784297631 / 9781784297633
20 cm xvi, 456 pages : illustrations (black and white)
Reprint. Originally published: 2017.
'A book with special and dangerous properties' Hilary Mantel, bestselling author of Wolf Hall'Enthralling' M.R.
Carey, bestselling author of The Girl With All the Gifts 'An imaginative tour de force' The Times1558: Twelve children, gifted far beyond their years, are banished by their Tudor queen to the town of Rotherweird.
Some say they are the golden generation; some say the devil's spawn.
But everyone knows they are something to be revered - and feared. Four and a half centuries on, cast adrift from the rest of England by Elizabeth I and still bound by its ancient laws, Rotherweird's independence is subject to one disturbing condition: nobody, but nobody, studies the town or its history. Then an Outsider arrives, a man of unparallelled wealth and power, enough to buy the whole of Rotherweird - deeply buried secrets and all . . . Welcome to Rotherweird. 'A remarkable achievement' Sunday Independent 'Compelling' Guardian
BIC: