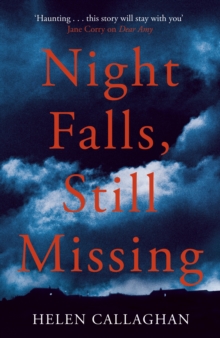 Night falls, still missing
1405945850 / 9781405945851
THE STUNNING NEW PSYCHOLOGICAL THRILLER FROM THE AUTHOR OF DEAR AMY AND EVERYTHING IS LIES'I read it almost in one sitting.
It's so good, such a wonderfully evocative setting and a plot that drives through as relentlessly as that Orkney rain.
Totally compulsive' Sabine Durrant, bestselling author of Lie With MeOn a cold, windswept night, Fiona arrives on a tiny, isolated island in Orkney. She accepted her old friend's invitation with some trepidation - her relationship with Madison has never been plain sailing. But when she approaches Madison's cottage, the windows are dark.
The place has been stripped bare. No one knows where Madison has gone. As Fiona tries to find out where Madison has vanished to, she begins to unravel a web of lies. Madison didn't live the life she claimed to. And now Fiona's own life is in danger . . . Praise for Helen Callaghan:'Riveting' Sunday Times'Thrilling' Sun'A tense plot, imaginative twists, and smart writing' Julia Heaberlin, bestselling author of Black-Eyed Susans
BIC: