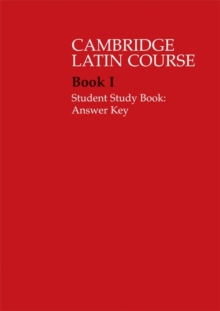 Cambridge Latin courseBook I,: Student study book answer key
0521685923 / 9780521685924
30 cm 52 pages : illustrations (black and white), maps (black and white)
Increasingly, Latin is being taught outside of the traditional classroom environment, either via distance learning or in very condensed timeframes.
These challenging teaching situations demand materials to support independent learners and those being taught in non-traditional classroom settings.
To meet this demand, The Cambridge School Classics Project has produced a series of Student Study Books,to be used in conjunction with the core books of the Cambridge Latin Course, and developed with the independent learner in mind.
This Answer Key complements Student Study Book 1, providing comprehensive answers and translations for all of the exercises in the study book.
BIC: