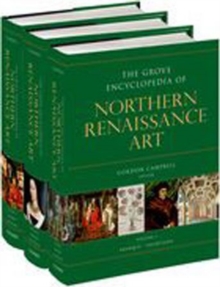 The Grove encyclopedia of northern Renaissance art
0195334663 / 9780195334661
Stock expected by 11/04/2020
Includes Internet access.
The Grove Encyclopedia of Northern Renaissance Art (GENR) deals with all aspects of Northern Renaissance art ranging from artists, architecture, and patrons to the cities and centres of production vital to the flourishing of art in this period.
Drawing upon the unsurpassed scholarship on the Renaissance in Northern Europe in The Dictionary of Art (DOA) and adding dozens of new entries, GENR is a comprehensive reference resource on thisimportant area for students, researchers, and scholars. The volumes cover all subject areas in Northern Renaissance art including: biographies of artists, artisans, architects, craftsmen, philosophers, rulers, archaeologists, and historians; countries, cities and centres of production; art forms and architectural monuments and styles; theory, criticism, historiography, collecting, patronage, and more.
It addresses people and subjects specific to all areas of Northern, Central, and Eastern Europe, including, for example, the diverse geographicalregions that now encompass the modern nations of Germany, Austria, France, England, the Netherlands, Belgium, Scandinavia, Poland, and Russia.
GENR provides unparalleled scope and depth in this field, which has inspired and informed Western art for centuries.
It offers fully updated articles andbibliography as well as more than 500 illustrations, maps, drawings, diagrams, and colour plates. Similar in scope to The Grove Encyclopedia of Islamic Art and Architecture, this three-volume reference work contains articles of varying length, in alphabetical order.
The shorter, more factual articles are combined with larger, multi-section articles tracing the development of art forms across Northern Europe. Intended for both institutional libraries as well as scholars' and students' personal libraries, GENR offers scholarly material on Northern Renaissance art that is designed for all those interested in this area during this period in art history.
The engagingly written entries are also accessible to secondary school students, undergraduate college students, and general readers.
GENR is a reliable and convenient resource covering this field of enduring importance.
BIC: