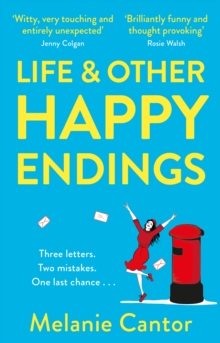 Life & other happy endings
178416416X / 9781784164164
Reprint. Originally published: as Death & other happy endings. London: Bantam Press, 2019.
Melanie Cantor's debut reminds us to live life with no limits' Good Housekeeping'Brilliantly funny and thought-provoking - an absolute joy' Cathy Kelly__Three letters.
Two mistakes. One Last chance. When Jennifer Cole is told she has three months to live she decides to write three letters sharing the desires, fears and frustrations she has always kept to herself. And at first she finds that telling the truth makes her feel free and liberated. But three months later, Jennifer's secrets are alive and out in the world . . . and so is she. As she discovers, sometimes the truth has a way of surprising you . . . __Readers are falling in love with Life & Other Happy Endings!***** 'Incredibly funny and immensely moving.'***** 'I couldn't put this book down.
Witty, touching and uplifting with a plot full of twists and turns.' ***** 'This book was like a breath of fresh air from start to finish.'__Life & Other Happy Endings was previously published as Death & Other Happy Endings
BIC:
FA Modern & contemporary fiction (post c 1945), FRD Adult & contemporary romance