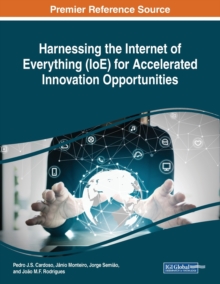 Harnessing the Internet of Everything (IoE) for Accelerated Innovation Opportunities
1522586032 / 9781522586036
Usually dispatched within 4 weeks
As innovators continue to explore and create new developments within the fields of artificial intelligence and computer science, subfields such as machine learning and the internet of things (IoT) have emerged.
Now, the internet of everything (IoE), foreseen as a cohesive and intelligent connection of people, processes, data, and things, is theorized to make internet connections more valuable by converting information into wise actions that create unprecedented capabilities, richer experiences, and economic opportunities to all players in the market.
Harnessing the Internet of Everything (IoE) for Accelerated Innovation Opportunities discusses the theoretical, design, evaluation, implementation, and use of innovative technologies within the fields of IoE, machine learning, and IoT.
Featuring research on topics such as low-power electronics, mobile technology, and artificial intelligence, this book is ideally designed for computer engineers, software developers, investigators, advanced-level students, professors, and professionals seeking coverage on the various contemporary theories, technologies, and tools in IoE engineering.
BIC: