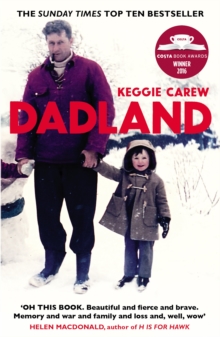 Dadland
178470315X / 9781784703158
20 cm 415 pages : illustrations (black and white), maps (black and white)
Reprint. Originally published: London: Chatto & Windus, 2016.
Discover a daughter's journey into her father's past in this Sunday Times bestseller and winner of the 2016 Costa Biography Award. Keggie Carew grew up under the spell of an unorthodox, enigmatic father.
An undercover guerrilla agent during the Second World War, in peacetime he lived on his wits and dazzling charm.
But these were not always enough to sustain a family. As his memory began to fail, Keggie embarked on a quest to unravel his story once and for all.
Dadland is that journey. It takes us into shadowy corners of history, a madcap English childhood, the poignant breakdown of a family, the corridors of dementia and beyond. 'OH THIS BOOK. Beautiful and fierce and brave. Memory and war and family and loss and, well, wow' Helen Macdonald, bestselling author of H is for Hawk'A thrilling history of Churchill's Special Operations Executive... combined ingeniously with a tender, moving, funny portrait of the author's father' Nick Hornby, Observer
BIC:
BM Memoirs, VFJB Coping with illness & specific conditions, VFVX Intergenerational relationships