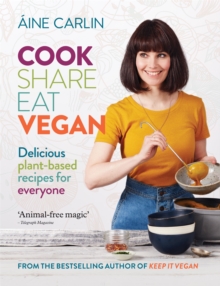 Cook share eat vegan : delicious plant-based recipes for everyone
1784726524 / 9781784726522
26 cm 240 pages : illustrations (colour)
Reprint. Originally published: 2018.
Animal-free magic - Telegraph MagazineRecipes to impress that just happen to be vegan - Sunday TimesIn Cook Share Eat Vegan, now in paperback, Aine Carlin has created the ultimate vegan bible, with more than 125 recipes that prove there's a place for plant-based food at every table. With an emphasis on great flavours and fresh, seasonal dishes that don't rely on substitutes or hard-to-source ingredients, Aine's style of cooking will appeal to everyone, from vegan-cooking enthusiasts to those simply wanting to dabble now and then. Delight your friends with Crispy Cinnamon Potato Tacos, enjoy a warming bowl of Turmeric & Sweet Potato Soup, or indulge in a delicious Vanilla Panna Cotta.
Discover recipes for every occasion and for all times of year - that just happen to be vegan. 'Finding the balance between health and indulgence, this book has a little bit of everything, from full-on comfort food to zen-inducing bowls to nourish from within.
Discover the beauty of plant-based food and leave your preconceived notions at the door - it's time to cook, eat, smile (repeat)' - Aine Carlin
BIC: