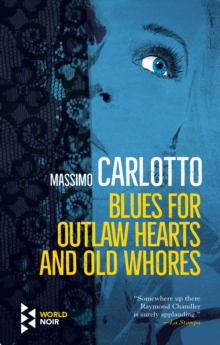 Blues for outlaw hearts and old whores
1787702138 / 9781787702134
Translated from the Italian.
"Crime writing this good just has to be read." - NB MagazineInternational secret police operations, drug trafficking, prostitution, and identity theft set the stage for the eternal struggle between Good and Evil"A masterpiece."- Mystery Tribune"An engrossing fable in which families and societies unravel and are refashioned." - ForeWord ReviewsAcclaimed as one of today's best noir writers, Massimo Carlotto reaches new heights in the most complex Alligator novel to date, rich with biting humour, humanity, and psychological insight. Marco Buratti, a.k.a. the Alligator, and his partners have fallen into a trap laid by their worst enemy: Giorgio Pellegrini, a wanted man who has no intention of living as a fugitive and turns police informer. But something goes wrong: with Pellegrini's wife and lover in the sights of a team of ruthless sicarios, the Alligator and co. are blackmailed and forced to investigate. But they've been framed. Even if they discover who's behind the crime, they'll rot in prison.
To survive, some rules will have to be bent, and others broken. "Carlotto makes even minor characters three-dimensional, such as a woman whose face shows that "she'd expected more from life and couldn't figure out why that hadn't come to pass," in this grim tale of violence and corruption.
James Ellroy fans will be satisfied." - Publishers Weekly
BIC: