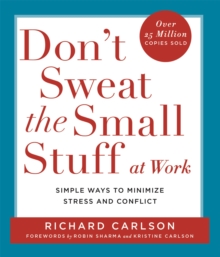 Don't sweat the small stuff at work : simple ways to minimize stress and conflict while bringing out the best in yourself and others
0340748737 / 9780340748732
Originally published: U.S.: Hyperion, 1998.
Most people spend at least 40 hours a week in the office, and constant deadlines, heavy workloads, and daily dilemmas can make working a stressful experience.
In his new book, Richard Carlson shows readers how to interact more peaceably and joyfully with colleagues, clients and bosses.
He reveals tips such as planning what you're going to say in a meeting or presentation, taking a deep breath before reacting to a co-worker's criticism, and asking for a raise in the most effective way possible.
Transforming your outlook at the office will not only ease stress in the workplace, it will also lead to a happier life at home.
Written in Carlson's warm, appealing style, "Don't Sweat the Small Stuff at Work" is certain to be an inspirational bestseller to the thousands who loved his previous books.
BIC:
JMJ Occupational & industrial psychology, VFJS Coping with stress, VS Self-help & personal development