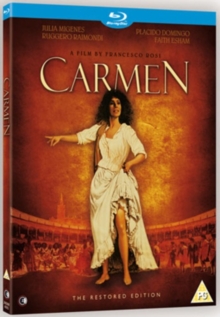 Carmen
Blu-ray (Blu-ray / Restored)
Francesco Rosi directs this adaptation of Bizet's dramatic opera.
Don José is a guard who begins an affair with the tempestuous Carmen.
He is imprisoned and loses his job, then flees with her to the mountains.
When the relationship starts to break down José refuses to acknowledge it, and will not leave even when he gets news that his mother is dying.
Carmen meanwhile has taken up with the bullfighter Escamillo.
Julia Migenes-Johnson and Placido Domingo star with Ruggero Raimondi, Faith Esham and Jean-Philippe Lafont.
Other Documentary: 'A Propos De Carmen: On the Set of the Film'