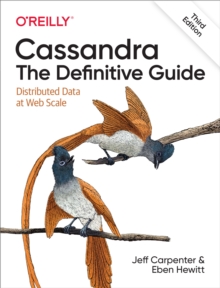 Cassandra: The Definitive Guide: Distributed Data at Web Scale (3rd edition)
1098115112 / 9781098115111
Imagine what you could do if scalability wasn't a problem.
With this hands-on guide, youll learn how the Cassandra database management system handles hundreds of terabytes of data while remaining highly available across multiple data centers.
This third editionupdated for Cassandra 4.0provides the technical details and practical examples you need to put this database to work in a production environment.Authors Jeff Carpenter and Eben Hewitt demonstrate the advantages of Cassandras nonrelational design, with special attention to data modeling.
If youre a developer, DBA, or application architect looking to solve a database scaling issue or future-proof your application, this guide helps you harness Cassandras speed and flexibility.Understand Cassandras distributed and decentralized structureUse the Cassandra Query Language (CQL) and cqlshthe CQL shellCreate a working data model and compare it with an equivalent relational modelDevelop sample applications using client drivers for languages including Java, Python, and Node.jsExplore cluster topology and learn how nodes exchange data
BIC:
UN Databases, UNF Data mining, UNS Database software, UY Computer science, UYFP Parallel processing
Title Unavailable: Withdrawn
Other Formats