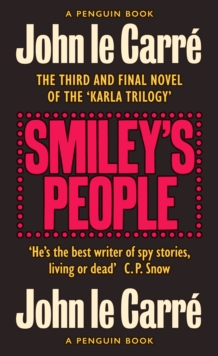 Smiley's people
0241330912 / 9780241330913
Reprint. Originally published: New York: Alfred A. Knopf, 1979.
THE SEVENTH GEORGE SMILEY NOVELA Soviet defector has been assassinated on English soil, and George Smiley is called back to the Circus to clear up - and cover up - the mess.
But what he discovers sends him delving into the past, on a trail through Hamburg and Paris to Cold War Berlin - and a final showdown with his elusive nemesis, Karla.
The concluding part of le Carre's celebrated Karla Trilogy, Smiley's People sees the last confrontation between the indefatigable spymaster and his great enemy, as their rivalry comes to a shattering end. 'An enormously skilled and satisfying work' Newsweek'We are all Smiley's people, a kind of secular god of intelligence' New Yorker
BIC: