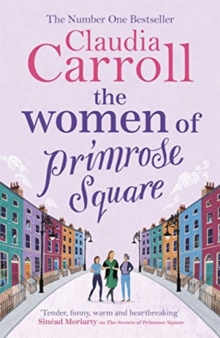 The women of Primrose Square
178576778X / 9781785767784
The new novel from bestselling author Claudia Carroll, perfect for fans of Emma Hannigan and Marianne Keyes. Frank Woods at number seventy-nine Primrose Square is about to turn fifty, and nobody seems to care.
His friends are all busy; his wife and children have other plans.
After years of being 'Mr Cellophane', he decides, finally, to do something for himself.
But when he gets home to a surprise birthday party, it is his guests who get the real surprise. Standing in the doorway is not Frank, but Francesca. As she transitions, Francesca struggles to come to terms with her true self, and her relationship with her family is thrown into turmoil.
At a loss of where to turn, she moves in with her cantankerous neighbour Miss Hardcastle, who hasn't left her home for decades.
There she befriends fellow lodger Emily Dunne - fresh out of rehab, finally off the drink and desperate to make amends. As gossip spreads through Primrose Square and every relationship is tested, nothing in this close-knit community will ever be the same again . . . Praise for Claudia Carroll:'Modern, warm, insightful and filled with characters that felt like friends at the end' Emma Hannigan'Original, poignant and funny . . . [full of] wit and humour' Sheila O'Flanagan'Full of warmth, humour and emotion . . . I guarantee you'll love it' Melissa Hill
BIC: