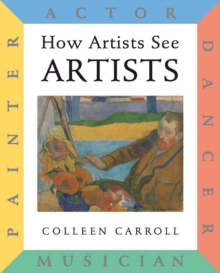 How artists see artists : painter, actor, dancer, musician
0789206188 / 9780789206183
Usually dispatched within 2 weeks
24 cm 48p. : ill. (chiefly col.)
Each lavishly illustrated volume in this fun, innovative series is devoted to a subject that every child already knows from personal experience.
As in the previous volumes, the seventeen works of art chosen for How Artists See Artists show the many different ways great artists have perceived and expressed that very subject throughout the ages, such as Degas's dancers, Picasso's Three Musicians, Gauguin's Van Gogh Painting Sunflowers, and Warhol's Marilyn Monroe.
Author Colleen Carroll's engaging, conversational text introduces basic artistic concepts, styles, and techniques, and is filled with thought-provoking questions and imaginative activities that spark children's natural curiosity both about the subject of the artwork they are looking at and about the way it was created.
For children who want to know more about the artists whose works appear in the book, biographies are provided at the end, along with suggestions for further reading and an international list of museums where each artist's works can be seen. As they begin to understand the multitude of ways that artists see, children will deepen their appreciation of art, of the world around them, and of their own unique vision.
BIC:
5AJ Interest age: from c 8 years, YNA Art: general interest (Children's / Teenage), YND Drama & performing (Children's / Teenage)
* Variable discounts between 0% and 15% are applied to items where BBfS cannot determine exact discounts from suppliers.