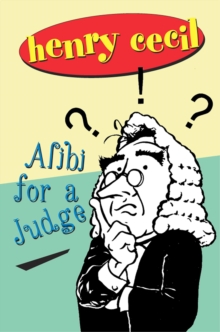 Alibi for a judge
1842320432 / 9781842320433
Usually dispatched within 2 weeks
Reprint. Originally published: London: Joseph, 1960.
Mr Justice Carstairs is a High Court Judge. He is completely incompetent and a chronic worrier to boot.
This is perfectly illustrated when he sentences a man to ten years' imprisonment and then immediately doubts his verdict.
Taking the unprecedented step of trying to overrule his own judgement he encounters resistance on all sides.
Matters get really complicated when, in trying to prove the man's innocence, he becomes convinced of his guilt.
He also becomes the target of a blackmailer. Find out how he resolves this dilemma in this is highly amusing and whimsical tale of a man assailed by his own doubts.
BIC: