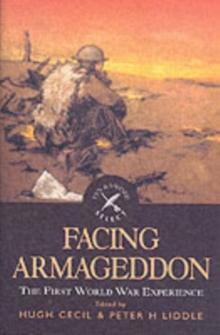 Facing Armageddon : the First World War experience
1844680029 / 9781844680023
Usually dispatched within 4 weeks
24 cm xxiv, 936 p., [32] p. of plates : ill.
Reprint. Originally published: London: Leo Cooper, 1996. Edited by Hugh Cecil and Peter H. Liddle.
Facing Armageddon is the first scholarly work on the 1914-18 War to explore, on a worldwide basis, the real nature of the participants experience.
Sixty-four scholars from all over the globe including the USA, Russia, Germany, Italy, France, Holland and the UK, deliver the fruits of recent research in what civilians and servicemen passed through, in the air, on the sea and on land.
Looking back from the final decade of the 20th century, we can see clearly how the First World War has shaped the fundamental character of our century.
The Second World War and the Cold War were among its direct, long term consequences.
Without an awareness of its effects on the individuals and societies involved, perceptible even now, we cannot fully comprehend the modern world.
Eighty years after the first day on the Somme, when no fewer than 57,000 British soldiers were killed, wounded or missing, there are still men and women alive, including a handful of actual combatants, who can remember the war.
Even now, anyone who visits Ypres, Thiepval or Verdun feels the immensity of that terrible ordeal. Facing Armageddon, lucidly written and vividly illustrated, is aimed at those, specialist, student and general readers alike, who seek a deeper understanding of human conflict in our times.
BIC:
HBG General & world history, HBJD European history, HBWN First World War