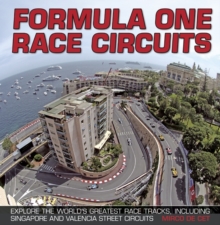 Formula One race circuits : explore the world's greatest race tracks, including Singapore and Valencia street circuits
0754827615 / 9780754827610
Usually dispatched within 2 weeks
26 cm 160 pages : illustrations
This is a country-by-country survey of the changing architecture of the most famous Formula One race tracks of the world, from the 1950s to the present day.
It includes illustrations of circuits in Bahrain, Malaysia, Australia, San Marino, Singapore, Spain, Monaco, Great Britain, Canada, the United States, France, Germany, Hungary, Turkey, Italy, Belgium, China, Japan, Brazil, Austria, Holland, South Africa and Sweden.
It explains how the changes in circuit design have affected motor racing, and the radical new designs that make Formula One fit for purpose in the 21st century.
It features over 200 action-packed race track photographs, 48 country maps and 40 street circuit maps.
It includes comprehensive tables of statistics listing the circuits that have held Formula One races since 1950, plus names of championship drivers and constructors.
Formula One drivers face enormous physical challenges, moving at top speed while twisting and turning around the race track.
Every circuit has its own special demands and characteristics, and this book is both an exciting history and a guide to the top circuits of the world. It covers the tracks of Australia, Monaco, the United States, Brazil, and many more, each section featuring a map of the circuit and a detailed description of the layout - the length of each straight, the number of turns and the main architectural features.
It explains where the tracks are in the world, and how to get there.
Tables of statistics list the winning drivers, from Nino Farina to Michael Schumacher and beyond.
So whether you're already a frequent visitor to Formula One races or hope to go to one in the future, this book will surely prove invaluable.
BIC:
* Variable discounts between 0% and 15% are applied to items where BBfS cannot determine exact discounts from suppliers.