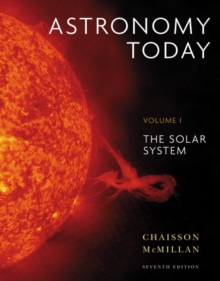 Astronomy Today Volume 1 : The Solar System (7 ed)
0321718623 / 9780321718624
217 x 273 mm, 984 grams 480 pages, Illustrations (chiefly col.), col. maps
With Astronomy Today, Seventh Edition, trusted authors Eric Chaisson and Steve McMillan communicate their excitement about astronomy and awaken you to the universe around you.
The text emphasizes critical thinking and visualization, and it focuses on the process of scientific discovery, making "how we know what we know" an integral part of the text.
The revised edition has been thoroughly updated with the latest astronomical discoveries and theories, and it has been streamlined to keep you focused on the essentials and to develop an understanding of the "big picture." Astronomy Today Volume 1: The Solar System focuses primarily on planetary coverage for a 1-term course and Includes Chapters 1-16, 28 of the main text.
Other Alternate Version: *Astronomy Today, Volume 2: Stars and Galaxies, Seventh Edition-Focuses primarily on stars and stellar evolution for a 1-term course.
Includes Chapters 1-5 and 16-28.
BIC:
The title has been replaced.To check if this specific edition is still available please contact Customer Care +44(0)1482 384660 or schools.services@brownsbfs.co.uk, otherwise please click 9780321909718 to take you to the new version.
Title Unavailable: Out of Print