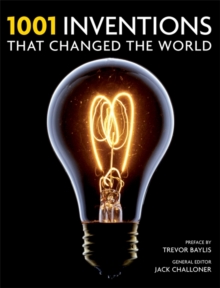 1001 inventions that changed the world
1844036111 / 9781844036110
21 cm 960 p. : ill. (some col.), ports. (some col.)
1001 Inventions that Changed the Way we Live aims to give you a wide and varied offering of scientific and technological breakthroughs that have shaped and aided human development throughout history.
From the first stone flints sharpened by prehistoric man to the spoke wheel and from the first steam powered machine to manual manoeuvring units for space walks, this book explores the stories behind the innovations and traces the development from concept to completion.
From the big ideas to the smaller objects, discover when the first pair of scissors was used, or how the world wide web was created inventions and ideas that have become integral to modern life now.
Perfect to dip into and an endless source of intriguing discoveries, 1001 Inventions that Change the Way we Live presents the history of the world through all the brilliant ideas that came to fruition.
It is a fascinating and comprehensive study of human endeavour throughout the ages.
BIC:
TBX History of engineering & technology, TBY Inventions & inventors