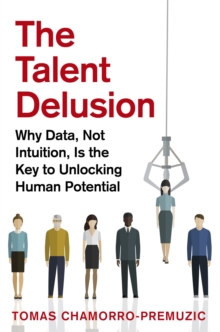 The talent delusion : the new psychology of human potential
0349412480 / 9780349412481
24 cm xvii, 283 pages : illustrations (black and white)
Professional & Vocational Learn More
Tertiary Education (US: College)
'This book shows how to find, attract, develop, motivate, and retain stars.
It's full of evidence and provocative ideas to help every talent leader' Dr Adam Grant, Wharton Professor, New York Times bestselling author, Originals and Give and Take'This is the book I want to hand every manager I've ever worked with . . . Every chapter is filled with quotes, findings, and ideas that I want to post on Twitter and share with the world' Dr. Todd Carlisle, VP of HR, Twitter WHY THE SCIENCE OF PEOPLE IS YOUR KEY WEAPON IN THE WAR FOR TALENTAll organisations have problems, and they nearly always concern people: how to manage them; whom to hire, fire or promote; and how to motivate, develop and retain high potential employees.
Psychology, the main science for understanding people, should be a pivotal tool for solving these problems - yet most companies play it by ear, and billions of dollars are wasted on futile interventions to attract and retain the right people for key roles. Bridging the gap between the psychological science of talent and common real-world talent practices, The Talent Delusion aims to educate HR practitioners and leaders on how to measure, predict and manage talent.
It will provide readers with data-driven solution to the common problems around employee selection, development and engagement; how to define and evaluate talent; how to detect and inhibit toxic employee behaviours; and how to identify and harness leadership potential.
BIC: