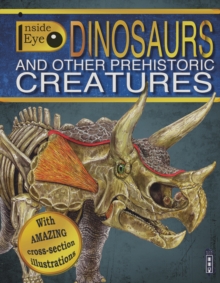 Dinosaurs and other prehistoric creatures
1909645656 / 9781909645653
Usually dispatched within 2 weeks
29 cm 32 pages : illustrations (colour)
With its striking illustrations and mind-boggling facts, Dinosaurs And Other Prehistoric Creatures takes you straight to the very heart of the most fascinating and fearsome beasts in history.
Find out why the stomach of a Brachiosaurus was full of pebbles and stones, and look inside the complex armour of a ceratopid.
Spanning from the dawn of dinosaurs to their mysterious extinction 64 million years ago, this must-have title in the new Inside Eye series reveals all!
Inside Eye is an entertaining new series which uses illustrations to 'see inside' buildings, animals, and machines.
Each book presents an in-depth view of the subject's construction and workings.
BIC:
* Variable discounts between 0% and 15% are applied to items where BBfS cannot determine exact discounts from suppliers.