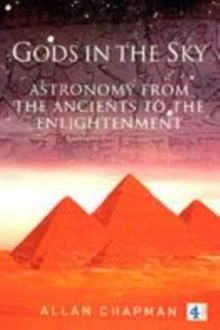 Gods in the sky : astronomy, religion and culture from the ancients to the Renaissance
0752261649 / 9780752261645
Usually dispatched within 2 weeks
24 cm xi, 342p., [8]p. of plates : ill. (some col.)
general Learn More
postgraduate
research & professional
undergraduate
Most histories of astronomy start with Copernicus, Galileo and Columbus, But this text shows that in the colourful mythology of the ancients lay a surprisingly accurate understanding of celestial movements.
A radical prefiguring of modern astronomy can be found throughout history.
Two millennia before Columbus set sail for America, Pythagoras conceived the world was round.
In 3rd century BC, Erasthones calculated the approximate size of the Earth, and long before Galileo's heretical science upset Christian orthodoxy, our 365.25 day calendar had been more or less finalized by Julius Ceaser as a variation on that of the Egyptians. "Gods in the Sky" is more than a history of astronomy, it explores the inextricable links in ancient civilization between astronomy and astrology, mythology, religion, philosophy, architecture, art, agriculture and navigation, to illuminate the history of the ancients.
BIC:
APT Television, PDX History of science, WNX Popular astronomy & space