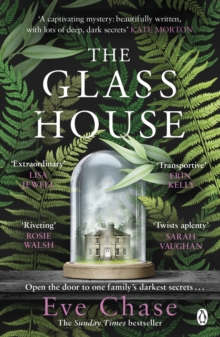 The glass house
1405940964 / 9781405940962
Reprint. Originally published: 2020.
THE SUNDAY TIMES BESTSELLERThe stunning new Richard and Judy pick about old family secrets, from the author of Black Rabbit Hall and The Vanishing of Audrey Wilde'A captivating mystery: beautifully written, with a rich sense of place, a cast of memorable characters, and lots of deep, dark secrets' Kate Morton, bestselling author of The Clockmaker's Daughter'Absolutely her best yet' Lisa Jewell, bestselling author of The Family Upstairs'A wonderful, romantic, compelling mystery.
Eve Chase has something of the poet in her: her descriptions of a remote manor house nestling in an ancient forest are worth reading for themselves, but the plotline of The Glass House is utterly absorbing in its own right.
We loved it' Richard and Judy Book Club'The Glass House is not really about a murder, or a creepy house, but about families - the ones we're born into, the ones we make and especially the ones we flee' New York Times_______The truth can shatter everything . . . When the Harrington family discovers an abandoned baby deep in the woods, they decide to keep her a secret and raise her as their own. But within days a body is found in the grounds of their house and their perfect new family implodes. Years later, Sylvie, seeking answers to nagging questions about her life, is drawn into the wild beautiful woods where nothing is quite what it seems. Will she unearth the truth?And dare she reveal it?_______'I adored this beautifully-written, riveting mystery' Rosie Walsh, bestselling author of The Man Who Didn't Call'So beautifully and insightfully written, with characters I grew to love.
A compelling, moving story that kept me turning the pages right to the very last' Katherine Webb, author of The LegacyPraise for Eve Chase'Enthralling' Kate Morton'Simply stunning' Dinah Jefferies'The most beautiful book you will read this year' Lisa Jewell'Filled with intrigue' Clare Mackintosh'Exquisite and evocative' Sarah Vaughan
BIC: