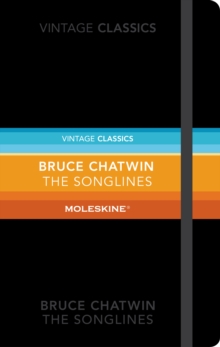 The songlines (Moleskine special edition)
1784873004 / 9781784873004
Usually dispatched within 2 weeks
This Moleskine-bound edition is sold together with a blank Moleskine notebook, for recording your own thoughts and adventures.
Perfect for the travel writers of the future. The Songlines is Bruce Chatwin's magical account of his journey across the length and breadth of Australia, following the invisible and ancient pathways that are said to criss-cross the land.
Chatwin recorded his travels in his favourite notebook, which he would usually buy in bulk in a particular stationery shop in Paris.
But when the manufacturer went out of business, he was told "Le vrai moleskine n'est plus". A decade after its publication, on reading this anecdote in The Songlines, a small Milanese publisher was inspired to revive production of the legendary 'moleskine' notebook. This limited, special edition of The Songlines celebrates both the 30th anniversary of the publication of Chatwin's iconic work, and the 20th anniversary of a brand that has now become synonymous with culture, memory and travel.
BIC: