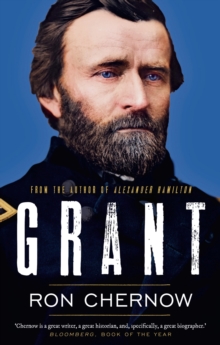 Grant
1788541618 / 9781788541619
23 cm 1104 pages : illustrations (black and white)
A dramatic portrait of one of America's most compelling generals and presidents, Ulysses S.
Grant, by Pulitzer Prize winner Ron Chernow, author of the book on which the astonishing musical Hamilton is based.
As late as April 1861, when the American Civil War broke out, Ulysses S.
Grant was a dismal failure. A competent officer in the war against Mexico, he had resigned from the army over his drinking and had sunk into poverty as a civilian, losing all his money in hopeless investments.
He had failed to secure the command of a volunteer unit and was about to return to his abject life working in his family's leather-goods store when he was offered the colonelcy of an Illinois regiment.
Less than four years later he was the commanding general of the victorious Union armies and was hailed as a military genius.
He later served two terms as President of the United States.
This is the epic biography of a very unheroic American hero, a modest, reticent and principled man who surprised the world and changed it for the better.
BIC:
BGH Biography: historical, political & military, HBJK History of the Americas