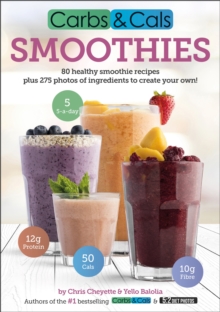 Carbs & cals: Smoothies : (1st edition)
1908261110 / 9781908261113
21 cm 160 pages : illustrations (colour)
The brains behind the #1 bestselling Carbs & Cals are back! This time with the perfect smoothie book for the health-concious. Featuring 80 delicious recipes, the book is beautifully presented showing detailed nutritional information for every smoothie. Whether you're on a low-calorie, high-fibre or high-protien diet, or just want to achieve your 5-a-day fruit & veg, this is the ideal smoothie book for you.
FEATURES; 80 delicious smoothie recipes. Beautiful image of every smoothie. Photos of ingredients in each recipe. Values for carbs, calories, protein, fat, fibre and 5-a-day fruit & veg. 275 photos of individual ingredients so you can create your own recipes.
Intro explaining the benefits of smoothies.
BIC:
VFMD Diets & dieting, WBH Health & wholefood cookery, WBXN Non-alcoholic beverages