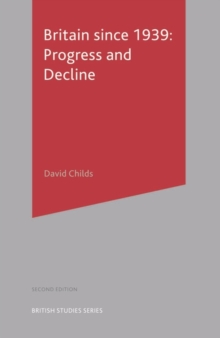 Britain since 1939 : progress and decline (2nd ed)
0333971655 / 9780333971659
Usually dispatched within 2 weeks
postgraduate Learn More
research & professional
undergraduate
Previous ed.: Basingstoke: Macmillan, 1995.
DAVID CHILDS is Professor Emeritus of Politics at Nottingham University and is author of the standard work Britain Since 1945: A Political History, The Fall Of The GDR and other works on Britain and Germany. He writes for The Independent and other publications.
This revised edition of David Childs' text offers a detailed account of Britain's history since 1939.
An introductory chapter focuses on the inter-war years, setting the scene for analysis of political, social and economic developments since 1939, including the impact of the Second World War, the last days of Empire, Ireland, the decline of the Conservatives and the Blair experience.
Childs concludes that, despite the serious problems Britain faces, Britons are better off than ever in terms of prosperity and personal freedom.
BIC:
1DBK United Kingdom, Great Britain, HBJD1 British & Irish history, HBLW3 Postwar 20th century history, from c 1945 to c 2000, HBWQ Second World War