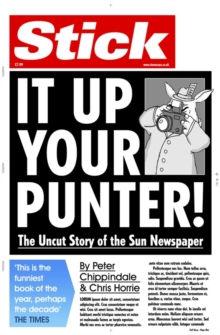 Stick it up your punter! : the uncut story of the Sun newspaper (Updated ed)
0671017829 / 9780671017828
Reprint. Previous ed.: London: Heinemann, 1990.
Acquired by Rupert Murdoch in 1969 and relaunched as a tabloid, the Sun newspaper rapidly established itself as a major voice in British society.
Under editors like Sir Larry Lamb and especially Kelvin MacKenzie, it came to epitomise a tabloid culture that revelled in sleaze, expose and shock journalism, and became the best-selling daily in the country.
Focusing especially on the newspaper's heyday under Lamb, MacKenzie and Stuart Higgins, Peter Chippindale and Chris Horrie's history of the paper and its methods is now regarded as a classic piece of writing on journalism.
Brilliantly written, hilariously funny and full of jaw-dropping revelations, it is both a hugely entertaining read and an essential text for any students of journalism and the media.
BIC: