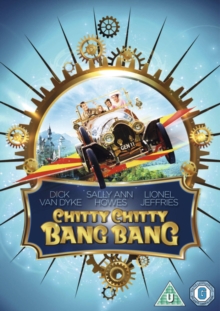 DVD (DVD / 50th Anniversary Edition)
(U) Universal, suitable for all.
Children's writer Roald Dahl helped adapt this fantasy by James Bond-creator Ian Fleming.
When inventor Caractacus Potts (Dick Van Dyke) acquires a run-down racing car and renovates it for his children, Jeremy and Jemima, he makes a few extra improvements.
The car, christened Chitty Chitty Bang Bang, now has the ability to fly, and takes the Potts and their friend, Truly Scrumptious (Sally Ann Howes) on an exciting adventure.
Arriving in the kingdom of wicked Baron Bomburst (Gert Frobe), they find themselves pursued by the evil Child Catcher (Robert Helpmann), while the Baron, desperate to get his hands on the car, kidnaps Jeremy and Jemima's grandfather (Lionel Jeffries) by mistake.