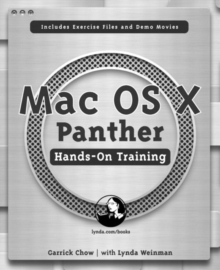 Mac OS X Panther hands-on training
0321241711 / 9780321241719
general Learn More
research & professional
academic/professional/technical
Get up to speed on Apple's latest major release, Mac OS X Panther, and its iLife applications through hands-on exercises and demo movies.
Apple has made a great operating system even better with the release of Mac OS X Panther.
With Panther, the formerly complicated Finder is set up to work like the easy-to-use iTunes interface, and Expose allows users to quickly switch among dozens of windows and files.
Other upgrades include a new Font Book for managing fonts, ways to manage multiple email threads, and the ability to protect your files from people you don't want accessing them (File Vault).
However, it's difficult to use these great tools or know how to burn CDs, work with photos, use no-charge videoconferencing, or instant messaging effectively if you don't understand how to work with the operating system itself.
Enter Mac OS X Panther Hands-On Training. Veteran author and trainer Garrick Chow first tackles the operating system--understanding the interface, working with files and folders, installing applications, and printing.
Then he tackles the digital goodies: burning MP3s, editing iMovie videos, posting images online. Chow devotes the first sections to grounding readers in skills they'll need to use the OS, and once they're fluent, he provides detailed coverage of the bundled iApps: iTunes, iPhoto, iMovie, iDVD, iTools, and iChat.
The entire book is filled with hands-on, fully illustrated tutorials and demo movies that get users up to speed quickly.
BIC:
Title Unavailable: Out of Print