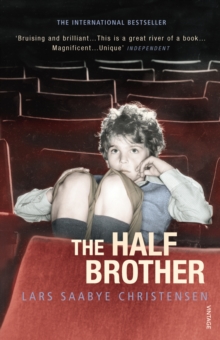 The half brother
0099459167 / 9780099459163
Reprint. This translation originally published: London: Arcadia, 2003.
Barnum and Fred are half-brothers, growing up in the sixties Oslo.
Barnum seems to have stopped growing, while his older half-brother, conceived after the rape of their mother and frustrated but learning difficulties, is sent away to a special school.
Barnum's father is no better than a con-man, giving the appearance of a travelling salesman; while the three women in the family (mother, grandmother and greatgrandmother - 'the Old One') are all unwed mothers.
Then the 'Old one' is killed by a hit and run driver - and Fred become mute as a result.
The two half-brothers embark on their separate courses, Fred becoming a boxer and Barnum a scriptwriter, hoping to create a new genre in film, "The Northern" (as apposed to the Western).
This literary marvel tells the story of an ordinary family in the 1960's, set apart by extraordinary family members and of two half-brothers leading very different and separate lives until they are brought together again at their mother's deathbed...
BIC:
FA Modern & contemporary fiction (post c 1945), FYT Fiction in translation