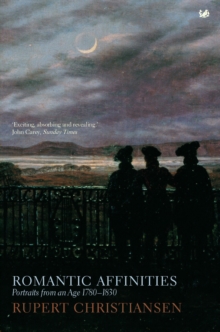 Romantic affinities : portraits from an age, 1780-1830
1844134210 / 9781844134212
Usually dispatched within 2 weeks
24 cm x, 262 p., [8] p. of plates : ill.
Reprint. Originally published: London: Bodley Head, 1988.
The most readable and reliable guide to the culture and society of the Romantic period in Europe.
The winner of a 1989 Somerset Maugham Award, Romantic Affinities is a kaleidoscopic series of portraits from an era of tumultuous change in Europe as it was experienced and communicated by the writers of the age.
These include not only the more familiar 'Romantic' figures, such as Coleridge and Shelley, Byron and Goethe, but also Chenier, H-lderlin, Hoffman, Madame de Sta-l, Pushkin and many others. Set against the background of the initial liberal dawning the French Revolution seemed to herald, the disillusion that set in after its descent into terror, and the decades of warfare that followed, Christiansen draws on a wealth of scholarship ranging over many related aspects of music, architecture, and politics as he presents fresh perspectives on poetry and prose long defined narrowly as Romanticism.
BIC:
2AB English, DSBD Literary studies: c 1500 to c 1800, DSBF Literary studies: c 1800 to c 1900
* Variable discounts between 0% and 15% are applied to items where BBfS cannot determine exact discounts from suppliers.