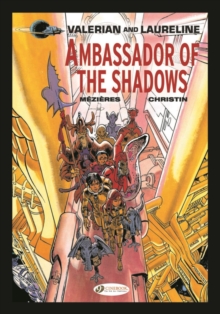 Ambassador of the shadows
1849183252 / 9781849183253
Usually dispatched within 4 weeks
31 cm 50 pages : chiefly illustrations (colour)
Translated from the French.
Point Central is a multicultural space station that serves as a sort of United Nations to the galaxy.
Tasked with protecting the new ambassador from Earth, Valerian is kidnapped alongside his charge in a lightning commando attack.
It's up to Laureline to do all the heavy lifting and slog through the seedy bowels of the station as she tries to locate and rescue themand figure out who kidnapped them and why.
BIC: