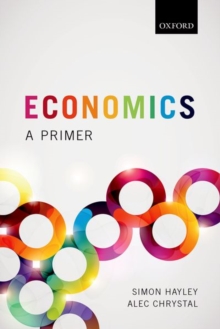 Economics : a primer
0198787057 / 9780198787051
24 cm x, 124 pages : illustrations (colour)
Concise, engaging and highly intuitive Economics: A Primer equips you with an understanding of all the basic principles of economics.
It is designed specifically for readers with no prior knowledge of the field.
Technical content is kept to a minimum and the universal principles of economics are distilled.
At its core, economics is simply the study of how humans behave and the choices which they make.
Chrystal and Hayley emphasise the practical applicationof economics for an individual as a consumer, saver and employee; and within the context of business and financial decision-making.
This approach ensures that the connection between economic theory and our everyday lives is illuminated.
Whether you are taking a short course in economics; are about to beginan Economics or related degree, or simply want to understand the theories which lie behind the headlines, this book which will ensure you master the core concepts. Supported by online resources to take your learning further:For Students- Summaries of key concepts- Bespoke videos of the authors summarising each chapterFor Lecturers - PowerPoint (R) slides
BIC: