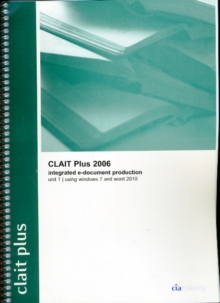 CLAIT Plus 2006 Unit 1 Integrated E-Document Production Using Windows 7 and Word 2010
1860058582 / 9781860058585
Professional & Vocational Learn More
Further/Higher Education
Revision / study guides
The first guide in the CLAIT Plus 2006 series will give you an understanding of files and folders, including file protection.
You will be able to use a word processor to enter and amend data, as well as to perform mail merge.
You will learn how to work with tables and to import and manipulate various objects.
The guide will teach you the skills needed to apply a specified house style to documents and to check your work for accuracy.
BIC: