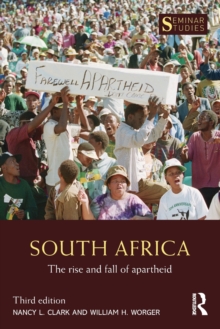 South Africa : the rise and fall of apartheid (Third edition)
1138963232 / 9781138963238
232 pages : illustrations (black and white).
Previous edition: Harlow: Longman, 2011.
South Africa: The Rise and Fall of Apartheid examines the history of South Africa from 1948 to the present day, covering the introduction of the oppressive policy of apartheid when the Nationalists came to power, its mounting opposition in the 1970s and 1980s, its eventual collapse in the 1990s, and its legacy up to the present day. Fully revised, the third edition includes:new material on the impact of apartheid, including the social and cultural effects of the urbanization that occurred when Africans were forced out of rural areasanalysis of recent political and economic issues that are rooted in the apartheid regime, particularly continuing unemployment and the emergence of opposition political parties such as the Economic Freedom Fightersan updated Further Reading section, reflecting the greatly increased availability of online materials an expanded set of primary source documents, providing insight into the minds of those who enforced apartheid and those who fought it. Illustrated with photographs, maps and figures and including a chronology of events, glossary and Who's Who of key figures, this essential text provides students with a current, clear, and succinct introduction to the ideology and practice of apartheid in South Africa.
BIC:
1HFMS Republic of South Africa, 3JJP c 1945 to c 2000 (Post-war period), HBJH African history, HBLW3 Postwar 20th century history, from c 1945 to c 2000, JPVH Human rights