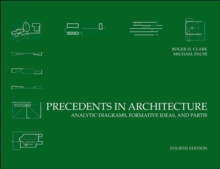 Precedents in architecture : analytic diagrams, formative ideas, and partis (4th ed)
0470946741 / 9780470946749
22 x 28 cm xv, 336 p. : ill.
Precedents in Architecture provides students with a foundation for understanding architecture and creating their own designs through the examination of works by internationally known architects.
A unique diagrammatic technique is used to analyze over 100 existing buildings and illustrate meaningful architectural concepts.
Students become familiar thinking in terms of parti- the assumptions behind an architectural design and the choices made when realizing that design.
The new Fourth Edition will examine work by current well-known architects from around the world that have emerged in the field in the past decade.
BIC: