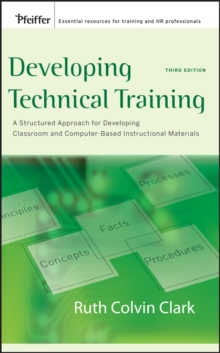 Developing technical training : a structured approach for developing classroom and computer-based instructional materials (3rd ed)
0787988464 / 9780787988463
Since it was first published almost twenty years ago, Developing Technical Training has been a reliable resource for both new and seasoned training specialists.
The third edition of this classic book outlines a systematic approach called the Instructional Systems Design (ISD) process that shows how to teach technical content defined as facts, concepts, processes, procedures, and principles.
Whether you teach "hard" or "soft" skills, or design lessons for workbooks or computers, you will find the best training methods in this book.
Using these techniques, you can create learning environments that will lead to the most efficient and effective acquisition of new knowledge and skills.
Throughout the book, Clark defines each content type and illustrates how to implement the best instructional methods for delivery in either print or e-learning media.
BIC: