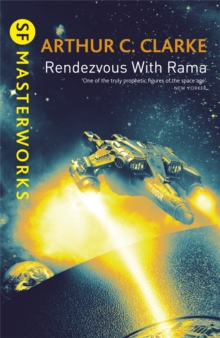 Rendezvous with Rama
0575077336 / 9780575077331
Reprint. Originally published: Harcourt Brace Jovanovich; London: Gollancz, 1973.
The only novel ever to win all the major science-fiction awards - Hugo, Nebula, John W. Campbell Memorial Award and the British Science Fiction Award '[Arthur C. Clarke] writes always with lucidity and candour, often with grace, sometimes with a cold, sharp evocativeness that has produced some of the most memorable images in sf' The Encyclopedia of Science Fiction 'One of the colossi of sf' John Clute 'The most popular English sf writer in the world' David G. Hartwell 'There are perpetual surprises, constant evocation of the sense of wonder, and occasions of the most breathless suspense' New Y
Rama is a vast alien spacecraft that enters the Solar System, A perfect cylinder some fifty kilometres long, spinning rapidly, racing through space, Rama is a technological marvel, a mysterious and deeply enigmatic alien artifact.
It is Mankind's first visitor from the stars and must be investigated ...
BIC: