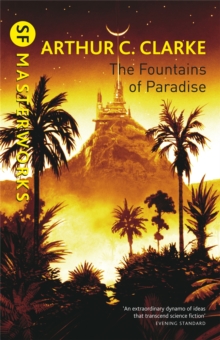 The fountains of paradise
1857987217 / 9781857987218
Reprint. Originally published: London: Gollancz, 1979.
* #34 in the Millennium SF Masterworks series, a library of the finest science fiction ever written. * 'Delightfully written and at times almost unbearably exciting' Kingsley Amis * 'His enthusiasm is combined with his considerable literary and myth-making skills ... the result is something special' Sunday Telegraph * 'A superbly crafted novel that may be his best' Tribune
In the 22nd century visionary scientist Vannevar Morgan conceives the most grandiose engineering project of all time, and one which will revolutionize the future of humankind of space: a Space Elevator, 36,000 kilometres high, anchored to an equatorial island in the Indian Ocean.
BIC: