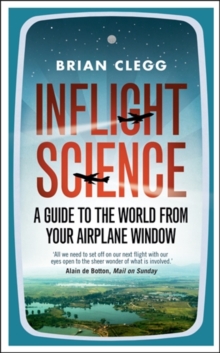 Inflight science : a guide to the world from your airplane window
1848312415 / 9781848312418
Stock expected by 16/04/2021
The perfect companion to any flight - a guide to the science on view from your window seat.
There are few times when science is so immediate as when you're in a plane.
Your life is in the hands of the scientists and engineers who enable tons of metal and plastic to hurtle through the sky at hundreds of miles an hour.
Inflight Science shows how you stay alive up there - but that's only the beginning.
Brian Clegg explains the ever changing view, whether it's crop circles or clouds, mountains or river deltas, and describes simple experiments to show how a wing provides lift, or what happens if you try to open a door in midair (don't!).
On a plane you'll experience the impact of relativity, the power of natural radiation and the effect of altitude on the boiling point of tea.
Among the many things you'll learn is why the sky is blue, the cause of thunderstorms and the impact of volcanic ash in an enjoyable tour of mid-air science.
Every moment of your journey is an opportunity to experience science in action: Inflight Science will be your guide.
BIC: