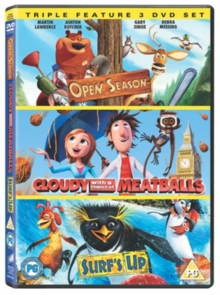 Cloudy With a Chance of Meatballs/Open Season/Surf's Up
Children's, Animated Feature
Triple bill of CGI-animated family comedies. 'Cloudy With a Chance of Meatballs' (2009) features the voice talents of Bill Hader, Anna Faris, Mr T and James Caan.
Flint Lockwood (Hader) is a fairly unsuccessful amateur scientist who appears to have developed a device that will bring an end to world hunger.
Unfortunately his invention, which causes food to rain out of the sky, ends up causing more trouble than good as his town is flooded with more food than people know what to do with.
Flint and weather girl Sam (Faris) must try and figure out what has gone wrong and save their town from disaster.
In 'Open Season' (2006), a domesticated grizzly bear called Boog (Martin Lawrence) gets lured into leaving the creature comforts of home by a fast-talking mule deer named Elliott (Ashton Kutcher) and finds himself lost in the woods just three days before hunting season begins.
Forced to rough it in the great outdoors, Boog goes native, rallying all the forest animals to take back their home and send the hunters packing.
In 'Surf's Up' (2007) Cody Maverick (Shia LeBeouf) is a young penguin who dreams of winning the biggest penguin surfing competition of the year: the Penguin World Surfing Championship.
His pursuit of this goal becomes the chosen subject of a team of documentary makers who go behind the scenes of the competition and interview Cody, his friends and surfing fans along the way.
Jeff Bridges, Zooey Deschanel and James Woods are among the actors who lend their voices to the characters in the film.